Chiropractor Seung Hyun Jung D.C.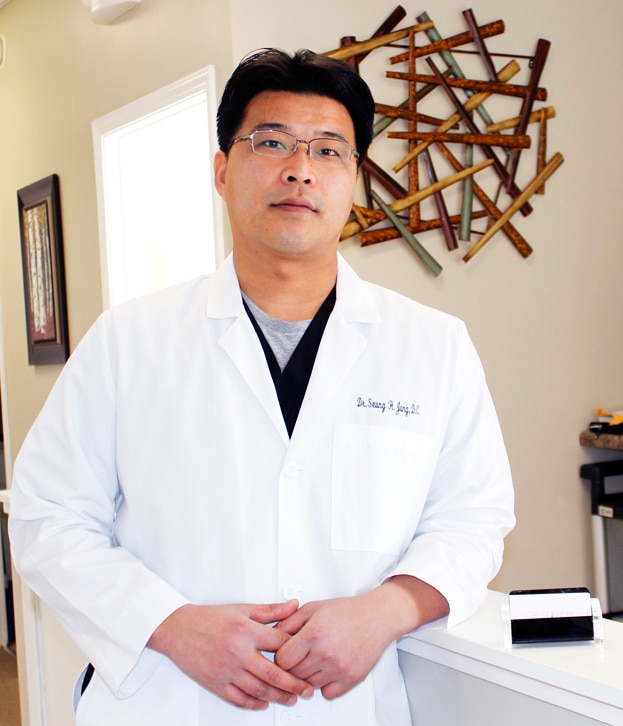 Dr. Seung-Hyun Jung is a chiropractor and the owner of TrustHope Wellness Care. Dr. Jung came up with the name 'Trust Hope' because he thought about the concept of 'trusting each other and hoping together'. He really believes that it's all about working together. It's not just him working on his patients but also patients do their parts and finally they "together" bring the best result. Dr. Jung approaches to one's health holistically. However, because he is a chiropractor he specializes in treating musculoskeletal conditions like low back pain, neck pain, headaches, sciatica, knee pain, shoulder pain, arms/legs pain, and hip pain etc.
The chiropractic adjustment is the primary tool to use for Dr. Jung to treat his patients. If he can choose only one technique it'll be the adjustment. That's how powerful and essential it is. Nevertheless, he puts great emphasis on doing various types of soft tissue work, acupuncture, physiotherapy modalities like IFC and Ultrasound, and therapeutic exercises to treat different kinds of musculoskeletal conditions for more permanent and successful results. Basically, he wants to provide whatever the patient needs from him. There is no such a cookie cutter treatment plan here. All treatment protocols are individualized and holistic. It all depends on what you have.
Professional Back Ground
Dr. Seung-Hyun Jung graduated from National University of Health Sciences (Lombard, IL) in 2011 as a chiropractor. Dr. Jung has been actively practicing as a full-time chiropractor since then. He started out his career as an associate doctor at a private chiropractic office in Schaumburg where he had worked for about 18 months. And then, he moved to Chicago to practice as an independent contractor. Dr. Jung practiced in Chicago until TrustHope Wellness Care was ready in late 2014 and he has been serving his patients here in Elgin, IL since January of 2015.
Personal Back Ground
Dr. Jung was born in South Korea in 1981. He came to the United States of America to study by himself when he just turned to 14 years old. He went to a private boarding school in Connecticut and went back to Korea after one semester at the University of Vermont to go to the South Korean army because it was mandatory. He served 3 years in the army and came back to the States to continue his college. He was introduced to CHIROPRACTIC accidently (otherwise, he would major in Business) a year after he came back. The message of chiropractic was so powerful that he knew right away "That was it". It was almost impossible to defy the fate of his and finally he accepted his calling in the year of 2005 and took the very first step to become a chiropractor in 2006 starting out with completing all the prerequisites.
| | |
| --- | --- |
| Monday | 8:45am - 6:45pm |
| Tuesday | 8:45am - 6:45pm |
| Wednesday | 8:45am - 6:45pm |
| Thursday | 8:45am - 6:45pm |
| Friday | 8:45am - 6:45pm |
| Saturday | 8:45am - 12:30pm |
| Sunday | Closed |
*Hours may change occasionally due to upcoming seminars for doctors and vacation. Please make sure that you call the office to confirm. Thank you.